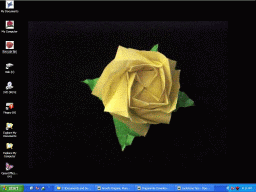 EXE file - 540kB approx. (Self extracting executable file)
Add some Origami Flavor to your Desktop. This Origami based theme for Win95 (requires MS Plus!), Win98 etc. provides Icons, Animated Cursors, Wallpaper, Startup and Shutdown screens.

Oritheme.exe will extract all files to your "C:\Program Files\Plus!\Themes" folder. If your desktop theme manager "theme's" folder is at a different location, provide the appropriate path during the extraction process.

After extraction, select START - SETTINGS - CONTROL PANEL - DESKTOP THEMES and select "Origami" from the Theme drop down selection box.
In addition to the THEME, Windows also uses three other files during Start Up and Shut Down. These are the "Start Up Screen" which comes up while Windows is loading, the next is the "Wait while Windows Shuts Down" screen and finally the "It is safe to Switch OFF your PC now" screen. These three are image files which are given the extension ".SYS" but are actually just regular ".BMP" files, with the specific condition that they must be 127 kB in size. The Ori-Theme includes these three files, but you need to rename them and copy them to specific locations as described below:
1.Ensure that Windows Explorer is set to "Show All Files (including System and Hidden Files". This will ensure that the above mentioned ".SYS" files will be visible.
2."Start up Screen" : Rename original "logo.sys" to "logo-old.sys". This file is in the root folder (that's "C:/")
3."Wait While Windows Shuts Down Screen" : Rename original "logow.sys" to "logow-old.sys". This file is in the "C:/Windows/" folder
4."It's Safe to Switch OFF your PC Now screen" : Rename original "logos.sys" to "logos-old.sys". This file is in the "C:/Windows/" folder
5."Start up Screen" : Rename "Origami logo.sys" to "logo.sys" and save in root folder (that's "C:/")
6."Wait While Windows Shuts Down Screen" : Rename "Origami logow.sys" to "logow.sys" and save in "C:/Windows/" folder
7."It's Safe to Switch OFF your PC Now screen" : Rename "Origami logos.sys" to "logos.sys" and save in "C:/Windows/" folder